Supplements
Inflation & The Rising Costs of Vitamins
by Anthony Benjamin on Oct 12, 2022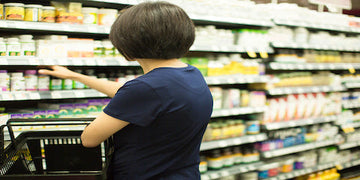 Inflation & The Rising Costs of Vitamins
Inflation has affected every aspect of American life. Everything is more expensive. It's all making a dent in our pockets, from gas to groceries and even the vital vitamins and minerals bariatric patients need to maintain a healthy lifestyle.
The reason many companies have to jack up their prices isn't that they want you to pay more either. These companies need to be able to afford transportation costs, which increase as oil and gas prices rise.
We've written many blogs on the importance of vitamins for bariatric patients, and we'll continue to stress this, especially in these trying times. Now more than ever, bariatric patients need to prioritize their health and continue to take their vitamins.
Please keep reading to learn why bariatric patients must follow a life-long plan to take the vitamins they need to stay healthy and happy.
Why Should I Get Bariatric Surgery?
People choose to receive bariatric surgery because it improves their quality of life and comorbid conditions and decreases the overall cost of healthcare. Patients will likely increase the length of their lives due to the reduced risk of diabetes, heart disease, and even cancers.
Bariatric Surgery Maintenance
When following up with a bariatric patient, nutrition is the most critical aspect of their weight loss and maintenance journey. According to Ochsner J, "the main factors contributing to successful weight loss after surgery are the patient's ability to make lifestyle changes and to maintain those changes for years to come."
Some of the most critical lifestyle changes include following a strict vitamin regimen, a healthy diet, and exercising regularly.
There are three main medical goals following bariatric surgery:
Maximize weight loss and absorption of nutrients
Maintain adequate hydration
Avoid vomiting and dumping syndrome
By prioritizing the nutrients you take in, you'll help yourself achieve all three of these goals.
The following information regarding supplements comes from the ADA Nutritional Care Manual.
Nutritional Needs Post-Bariatric Surgery
If you don't take your vitamins as prescribed by a physician following bariatric surgery, you risk experiencing severe and costly side effects, like gallbladder issues, thyroid issues, mental health issues, malnourishment issues, and problems with skin, hair, and nail health. This can cost you thousands in medical expenses.
Another danger of not taking supplements is it takes time for deficiencies to show symptoms and to have side effects like what we talk about below. By the time there are signs of deficiencies, it is difficult to correct them, treat the side effects, and "fix" the problem.
Some side effects are more serious than others, but when it comes to medical treatment, it is still not cheap.
For example, anemia (iron deficiency) can be quite serious. According to this source, it can take two to three months for your iron levels to return to a normal level.
Vitamins are also all about maintenance. This means that once you start taking vitamins again after experiencing side effects from being deficient, it is important to KEEP taking them. Just because your body bounces back and is no longer experiencing side effects, does not mean that you should stop taking your vitamins.
Protein
When eating a meal, patients should consume high-protein foods first, followed by vegetables, fruits, and grains. Because your stomach pouch will be smaller, you need to supplement with protein. Supplements should include protein isolate powder, like ProCare Health's Whey Isolate Protein Powder. It is recommended to consume between 60 and 80 grams of protein daily.
Calcium
Calcium deficiency typically occurs because absorption sites have been bypassed in surgery. Use a form of calcium that works best for a bariatric patient's system, like calcium citrate or TruCal®. You can take both forms with limited to no stomach acid, without food, and they do not contribute to kidney stones.
ProCare Health provides both calcium citrate and TruCal®options:
Click here for more information about TruCal®!
Iron
Iron deficiency, or anemia, occurs when primary absorption sites are bypassed. The intake of foods high in iron also decreases because some patients' stomachs cannot correctly digest red meat. To make things worse, iron absorption decreases because less gastric acid is available. Menstruating females are also more susceptible to iron deficiency.
If you wish to maintain healthy levels, many bariatric patients need 45 to 60 mg daily. Make sure to take your iron supplement if your multivitamin does not contain iron.
Vitamin B12
Vitamin B12 deficiency occurs due to low caloric intake. Physicians can monitor vitamin B12 levels by taking blood tests. These tests will tell them how they should supplement their patients' vitamin B12 needs.
Some patients even experience high B12 levels. At ProCare Health, we work with dietitians and doctors to monitor patients' blood work in case there is a need for a formula adjustment.
Our Special 45 formula was created because we saw a trend of patients that were taking our Original Multivitamin had a high level of B12. We saw a need for patients and made a change to better cater to their individual needs!
Thiamine (vitamin B1)
Low thiamine levels can cause acute Wernicke encephalopathy, lower limb hypotonia, seizures, unsteady gait and ataxia, polyneuropathy, and hearing loss. Severe deficiency can cause beriberi.
Beriberi can be separated into two categories:
Wet beriberi

 

– affects the cardiovascular system; it is life-threatening and needs immediate treatment
Dry beriberi

 

– can damage the central nervous system; disrupts motor functions; can also impair reflexes, and cause numbness in the extremities; typically, easier to treat than wet beriberi
Other possible symptoms include:
Mental confusion
Tingling or loss of sensitivity in fingers or feet
Fatigue
Rapid heart rate
Chest pain
Nausea or vomiting
Fever
Symptoms must be corrected when they first appear. If not corrected, beriberi can progress into Koraskoff syndrome, a type of encephalopathy, which refers to damage or disease that affects the brain.
We created our Special 45 formula because low thiamine levels were noted via blood work. Thus, we increased the thiamine level to 25 mg.
How To Meet Your Nutritional Needs
Every bariatric patient needs to take a bariatric multivitamin following surgery. There are different types of vitamins, from chewables to capsules.
To ensure you receive all the nutrients you need when you need them, try a ProCare Health multivitamin!
If you need a chewable multivitamin, opt for something like our Once Daily Bariatric Multivitamin | Chewable or our ProCare Health | Bariatric Multivitamin Soft Chews | Multi-Flavor| 60 Count.
ProCare also provides pre-natal bariatric multivitamins and bariatric multivitamins with probiotics.
How To Budget for Vitamins
Making small budget decisions can make a major difference when it comes to saving enough money for your vitamins. When shopping with ProCare Health, just know that it only costs you less than two dollars a day to keep up with your multivitamins.
Here is a link to a LIVE event that we did on how to cut your grocery bill.
If you are pre-op and are considering surgery, but feel overwhelmed with rising inflation costs, check out how to best prepare financially for surgery here.
ProCare Health
ProCare Health provides high-quality bariatric supplements to patients across the nation. People seek out bariatric surgery because they realize they need to make a change to live a healthier life. All we want is to watch them succeed.
That's why we provide everything a bariatric patient could need. From vitamins and supplements to support via our CrowdCast Channel, we do all we can to help you along your health journey.
For more information about what we have to offer, visit our website at https://procarenow.com/.