Created by Dietitians: Our Once-Daily Bariatric Multivitamin Makes Life Easier
Doctors, dietitians, and bariatric coordinators were consulted to create the most complete bariatric multivitamin available. The result is ProCare Health's once-daily multivitamin designed for patients who have undergone bariatric surgery.
Advocating for Compliance
Weight-loss surgery patients require more nutrients than a diet alone can provide. These patients need approximately 200% RDA for all vitamins.
Dietitians and nutritionists know supplements are essential after bariatric surgery. Their job is to help keep post-surgery patients healthy. They know the more complicated the routine of acquiring the extra nutrients, the more unlikely patients will be to maintain compliance.
Through mutual connections, ProCare Health started working with bariatric doctors and dietitians at the University of MO-Bariatrics. There, we were able to fine tune and test that our once-a-day chewable was effective for weight loss patients. Once implemented as the vitamin of choice due to ease and affordability, adherence to vitamin requirements in patients increased from 35% to 87%!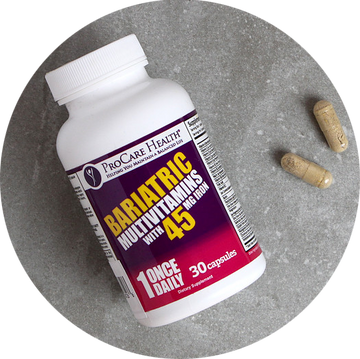 Helping Dietitians Help Patients
In an effort to help make life easier for both patients and professionals, we asked for the most common patient complaints regarding bariatric supplements. The top five are: size, daily dose, taste, texture, and cost.
We then set out to address them all.
Supplement Size and Daily Dose
While the size is average for a supplement, we packed in double the nutrients. This means only one of our capsule or chewable vitamins is needed each day. The chewable wafer is also designed to be broken up into smaller pieces if desired.
Taste and Texture
We are able to pack more vitamins into a single dose because our supplements are made with minimal binders and fillers. Less binders also means less of a chalky taste and texture. The result is a more pleasant tasting chewable, or with our capsule, no taste at all!
Cost
Cost is usually the biggest factor for maintaining compliance with patients. If they can't afford it, they can't stay compliant. We focused on making our supplement cost-effective. A comparison of top brands shows that patients can save 49-61% a month on supplements with ProCare Health.
Trust and Transparency
To many, it might be "just a vitamin"; however, at ProCare Health; we know how much a quality supplement can affect patient health. Our products undergo a testing regimen that exceeds the industry's quality expectations. After being produced in a cGMP compliant plant in the USA, every ingredient of every lot is tested, delivering peace of mind to customers, and being a supplement Dietitians can trust. No other company provides that level of testing with transparent results available for everyone to see. Also, our Bariatric Multivitamin with 45mg iron capsule is ConsumerLab.com approved!
Based on independent tests by ConsumerLab.com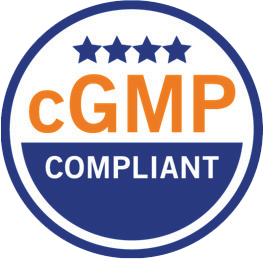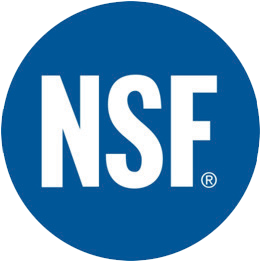 ASMBS
ProCare Health consulted the guidelines of the American Society for Metabolic and Bariatric Surgery when developing the contents of our multivitamin. Adherence to the 2016 ASMBS recommendations has resulted in a multivitamin with high absorption of all the necessary post-surgery nutrients.
Free Samples
We provide free samples to dietitians and nutritionists so they can allow their patients the opportunity to try our supplements before committing to purchasing a bottle. We want every patient to feel confident in their vitamin choice!
Quality Assurance
To maintain the highest standards of quality, our supplements are produced in the USA, lab tested, and reviewed through patient results.
Patient blood panels are reviewed regularly and often discussed with facilities to ensure the supplements are performing as intended.
We also third-party test every lot for quality and post the test results for everyone to see. We are the only company that provides this level of transparency for bariatric patients.
Commitment to Customer Service
Weight-loss surgery patients are on a journey to optimal health, and we want to help make the path easier. Our customer service team is eager to answer questions and guide patients to the right products, while making the buying process easy, affordable, and stress-free.


"Upon starting to recommend the ProCare one-a-day multivitamin/mineral, we broke through several areas of compliance with our patients. The first being cost, the second remembering to take everything, and the third taste and texture intolerance."
– Abby Klemme, RD, LD