Before Surgery
Iron Deficiency After Gastric Bypass Surgery
by Anthony Benjamin on Oct 12, 2022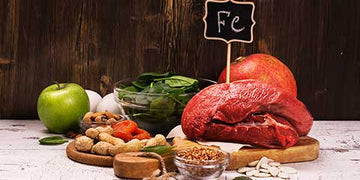 Iron Deficiency After Gastric Bypass Surgery
Iron deficiency can be a challenge for those who have gastric bypass surgery.
Obesity is one of the most serious health conditions in the United States, affecting more than 35% of all adults. When other methods have failed, bariatric surgery is a safe and effective method of weight control. If you're one of the estimated 150,00 people who has chosen to make this life-changing decision this year, congratulations on taking control of your health!
Along with the positive changes in lifestyle and appearance, the procedure can bring some new challenges as well. While you love how you look (and the new wardrobe!), maybe you don't feel quite as energetic. Perhaps you've started noticing your hair seems dryer and you have dark undereye circles. Maybe your hands and feet are always cold or you're suddenly experiencing heart palpations and worried about what's going on with your body.
It's quite possible that you have an iron deficiency and have become anemic. In fact, it's one of the most common micronutrient deficiencies after bariatric surgery. And it's especially common for post-menopausal women.
Symptoms of an Iron Deficiency
Unfortunately, iron deficiency is often overlooked by health care providers when patients complain of vague symptoms or don't demonstrate classic signs of anemia. It's important to know the signs if you suspect you may be iron deficient. Here are some of the most common complaints:
Lack of energy or tiredness (fatigue)
Headache
Heart palpitations (especially during physical activity)
Hair loss
Brittle and spoon-shaped nails
Sores at the corners of the mouth
Craving of non-food substances such as clay or chewing of ice (Pica)
Pale, yellow, dry or itchy skin
Dizziness, confusion and/or depression
Restless leg syndrome
Inability to maintain body temperature (cold hands and feet)
Preventing Iron Deficiency After Gastric Bypass Surgery
After weight-loss surgery, you will need to monitor your level of iron for the rest of your life. This is extremely important as anemia can occur years or even decades after your procedure.  Your healthcare provider should ideally measure your iron levels 6 months after surgery and at least once a year after that.
It's possible to raise your iron levels by making changes to your diet by eating more heme and non-heme rich iron. Heme iron is found in the hemoglobin of animal foods such as red meat, poultry, and seafood and is the form of iron more readily absorbed by the human body. The iron found in plant-based food is called non-heme iron and is found in leafy greens, legumes, nuts, iron-fortified foods, and supplements.
Dietary changes alone often aren't enough to prevent or fix an iron deficiency. Your health care provider may suggest supplementation. When supplementation is recommended, here are some ways to increase iron absorption to get the most value for your money:
Limit tannin containing products such as coffee, tea, chocolate, and wine, especially one hour before or after taking iron.
Avoid taking iron with calcium supplements or calcium-rich food. Separate calcium and iron by at least two hours.
Consider checking your vitamin A levels if you continue to have problems correcting your iron levels. Vitamin A helps with iron absorption.
Take an easily absorbed multivitamin with vitamin A and iron, like ProCare Health's once-daily multivitamin capsule with 45 mg of iron or our chewable multi with 45 mg of iron.
Choose ProCare Health's shelf-stable Probiotic Multi with Iron to increase gut health and absorption and reduce gastrointestinal issues.
The Best Type of Iron for Supplementation
There are several types of iron salts when it comes to supplementation. The best type of supplemental iron for treating iron deficiency anemia is ferrous fumarate. This type of iron is most recommended for people who have bariatric surgery because it's gentler on the stomach (less likely to cause constipation). Also, it has the highest bioavailability (33%), which means that it is more easily absorbed by the body.
Some supplements may rely on other forms of iron like ferrous gluconate, ferric citrate, and ferric sulfate. Beware if you see these on a label because they have lower bioavailability and aren't absorbed as easily by the body.
At ProCare Health we take iron deficiency seriously. That's why we only use ferrous fumarate in our supplements. When you take our multivitamins, you can trust that you are getting the best!
The ProCare Health Advantage
ProCare Health vitamins and supplements were specifically designed to meet the needs of patients who have undergone adjustable band, duodenal switch (BPD-DS), gastric bypass, gastric sleeve and/or mini bypass surgeries and are targeted to their unique needs. Depending on your doctor's recommendation, you may require much more iron than the average dose. That's why ProCare Health offers three high-quality multivitamin options: a 45 mg variety, a chewable form, and a multi probiotic combo with 45 mg. These bariatric multivitamins have been specially formulated to meet the updated 2016 American Society for Metabolic & Bariatric Surgery (ASMB) specifications.
Our primary goal is to improve the quality of life for patients, so we set out to address the most common complaints regarding bariatric supplements. The top five are:
Size
Daily dose
Taste
Texture
Cost
The size of our vitamin is average for a supplement but contains double the nutrients. Both our capsules and chewable tablets are once-daily, and you can choose the dose of iron that's right for your specific needs. They're formulated to be easily digestible and less likely to cause stomach irritation. We use minimal fillers and binders which means less of a texture, resulting in a more pleasant taste! Best of all, when compared to other top bariatric brands, you will find that ProCare Health will save you 49-61% over other bariatric vitamin brands.
ProCare Health knows how much a quality supplement can improve your life and health. We strongly believe that our supplements are more than "just a vitamin" and take steps to ensure our products undergo a stringent testing regimen that exceeds industry standards. We test every ingredient in every lot, thus delivering peace of mind to you, our valued customer. In fact, no other company in the industry offers our level of transparent testing results available for everyone to see!
Additionally, all our products are free of artificial flavors, sweeteners, gluten, and lactose. We're so confident you'll love our vitamins we even offer free samples for you to try before you purchase. As always, please feel free to call us today at 877-822-5808 with questions or to place an order.