Supplements
The Importance of Prenatal Vitamins
by Anthony Benjamin on Oct 12, 2022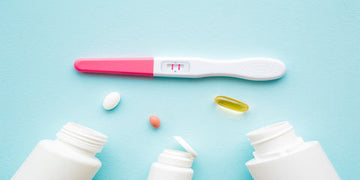 The Importance of Prenatal Vitamins
Bariatric surgery has proven to be a highly effective weight loss aid, and more people are opting for this surgical intervention, especially women. Furthermore, research has indicated a five-fold increase in female teenagers undergoing bariatric intervention. Therefore, it's safe to expect that the population of women of childbearing age that have undergone bariatric surgery will only continue to grow.
Many women seek out bariatric surgery in the hopes of regulating their hormones so they can ovulate normally and increase their chances of becoming pregnant. For more information about pregnancy after bariatric surgery and how obesity affects pregnancy, please read our blog, Pregnancy After Weight Loss Surgery.
While more research must be done to confirm whether bariatric surgery negatively affects neonatal outcomes and the mother's health, it's clear that the mother's nutritional status is jeopardized more so than in a mother that has not undergone bariatric surgery. That is why we stress the importance of prenatal vitamins. Keep reading to learn about the vital role prenatal vitamins play in both the health of the mother and the baby.
Bariatric Surgery & Pregnancy
After bariatric surgery, women should wait at least 12 to 24 months to get pregnant. We also recommend that if you have had weight-loss surgery and are considering pregnancy, you should consult your bariatric program to help.  You'll want to be fully healed from the surgery's trauma, maintain a healthy lifestyle, and have a stabilized weight, as rapid weight loss can be dangerous for the mother and fetus.
When you are trying to get pregnant or when you do become pregnant, it's essential that you stop taking your regular bariatric vitamins and start taking a bariatric-approved prenatal vitamin. You'll be at a higher risk of protein and calorie malnutrition and micronutrient deficiencies because your body and the fetus will require more nutrients.
Recommended nutrient supplements include multivitamins, calcium and vitamin D, iron and vitamin B12, and additional folic acid supplementation.
Antenatal Care
It's common for individuals to be nutrient deficient following bariatric surgery. However, pregnancy symptoms like nausea, vomiting, acid reflux, and abdominal bloating can exacerbate these deficiencies.
Vitamin compliance may also be a concern, as some studies indicate poor adherence to nutritional supplementation post-surgery. Prenatal vitamins are not optional!
To assure pregnant women who have undergone bariatric surgery meet their nutritional needs, they should have nutritional surveillance and laboratory screenings for deficiencies every trimester.
Energy Requirements
Managing weight expectations before, during, and after pregnancy is essential to maintaining a healthy weight. Some patients may eat too little in the fear that they'll gain too much weight, while others may fall victim to the "eating for two" misconception.
Pregnant women should avoid any weight loss during pregnancy and instead focus on a balanced diet. Weight gain of 12 kg is average for someone with a healthy BMI (a BMI of 25 or less), and weight gain of 6 kg is average for someone overweight or obese (a BMI over 25).
Protein Intake
While protein deficiency is uncommon, it can occur due to reduced food intake, intolerance of protein-rich foods, or procedures that cause malabsorption. This is of concern because protein deficiency may be associated with higher childhood blood pressure and risk of cardiovascular disease later in life.
It is recommended that bariatric patients consume 0.75 g of protein per kg of body weight, plus an additional 6 g per day during pregnancy. This can be difficult to achieve through diet alone, so food and fluid fortification may be needed to increase your protein intake.
Try ProCare Health's Whey Isolate Protein Powder. It includes:
26 g of whey isolate protein
An exclusive immunity blend
Added electrolytes
A digestive enzyme blend
Two flavors – chocolate and vanilla
30 servings per bag
Iron
Iron deficiency is the most common nutritional deficiency following bariatric surgery. It occurs in nearly half of all patients.
During pregnancy, iron requirements increase by 800 mg. 300 mg are required by the fetus and placenta, while the remaining 500 mg are needed for maternal hemoglobin mass expansion.
Research suggests that maternal iron deficiency leads to an increased risk of premature delivery and subsequently a low birth weight.
Current guidelines recommend taking 45 to 60 mg of elemental iron daily. You may need intravenous iron supplementation if oral iron supplements fail to correct deficiencies.
We recommend finding a prenatal vitamin that includes iron. This will help your vitamin regimen stay simple, convenient, and affordable because you will be buying fewer supplements.
ProCare Health's prenatal vitamin packs 60 mg of iron in each serving (2 capsules).
Calcium & Vitamin D
Calcium homeostasis alters during pregnancy to ensure adequate mineralization of the fetal skeleton and to prepare for lactation.
Increasing your vitamin D levels enhances calcium absorption from the intestine. This is particularly helpful during lactation when you lose 300 to 400 mg of calcium daily in breast milk. Mothers may experience bone loss comparable with menopause. However, these changes quickly resolve following weaning and are unlikely to have long-term consequences.
We recommend that pregnant and lactating women consume 1,500 mg of calcium daily and at least 800 IU of vitamin D daily. This may be difficult to achieve without supplements.
Try ProCare Health's Calcium Soft Chews. Perks of these include:
A creamy, non-gritty texture
The only all-natural ingredient, calcium chew on the market
500 mg of calcium, 500 IU of vitamin D3, and 500 million CFUs of probiotics per chew
Gluten-free, kosher, and non-GMO
ProCare Health also carries ProCare Heath | Calcium Soft Chew | Mocktails Assortment | 90 Count.
It's vital that during pregnancy, you consume enough calcium and vitamin D, as vitamin D deficiency is linked to rickets in infancy, fetal growth restriction, and pre-eclampsia.
Prenatal Vitamins: ProCare Health | Bariatric Multivitamin | Prenatal
Selecting the perfect prenatal vitamin is vital to your and your baby's health. Take ProCare Health's Prenatal Bariatric Multivitamin to ensure you receive every bit of nutrients you need.
Take two capsules once a day or one capsule twice a day. One serving (two capsules) includes:
Five billion CFU/gm of shelf-stable probiotics that promote healthy digestive functions and may reduce morning sickness
10 mg of prebiotics (fuel for good bacteria in your gut)
60 mg of iron to provide energy and help transport oxygen throughout the body
Reduced vitamin A per prenatal needs
1,700 mcg of L methyl folate calcium to promote healthy brain and spinal development
Potassium to prevent muscle cramps, fatigue, and weakness
Vitamin B complex to provide natural energy and stress support
90 mg of a gentle prenatal blend, which includes the superfood spirulina, red raspberry, dandelion root, and ginger to enhance digestion
*All ProCare supplements and vitamins are formulated with ASMBS guidelines.
ProCare Health
At ProCare Health, your health comes first. We have dedicated ourselves to providing the optimal care, and protection customers deserve. Whether you're in the market for regular or prenatal bariatric necessities, we've got your back!
From support groups and informative evens on our Crowdcast channel to providing high-quality vitamins and supplements, we will continue our mission of providing the best care possible.