Post Surgery
Tips for a Surviving a Liquid Diet
by Anthony Benjamin on Oct 12, 2022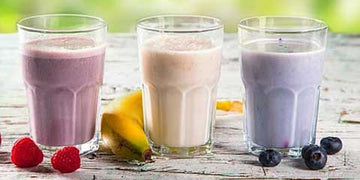 Tips for a Surviving a Liquid Diet
Your liquid diet may be one of the biggest challenges you face on your weight loss journey. Liquid diets are vital to the recovery process, and although they can be unpleasant, they help your body successfully heal, prevent obstructions, and give your wounds time to scar properly. After surgery, you will start a clear liquid diet while you are in the hospital and will continue it for the first few days after you are discharged home. Liquid diets are hard to stick to, but the following liquid diet tips will help you as you transition back to solid foods.
The Liquid Diet is the Beginning of Your Weight Loss
While there are things you won't love about your liquid diet, you will like seeing the pounds drop off you when you are on it. Even if you don't lose a lot of weight, you will find yourself feeling better.
Some examples of foods typically included in a full liquid diet:
Water
Broth, bouillon, or stock (note that stock is heartier)
Sugar-free popsicles (not

 

fudgesicles)
Unsweetened almond milk or soy milk
Sugar-free drinks like Crystal Light
G2 and Powerade Zero
Decaffeinated coffee or tea
Light yogurt
Fat-free, sugar-free pudding
Protein drinks
Some programs allow strained cream soups, runny oatmeal, and cream of wheat when you are ready to transition to thicker pureed foods.
The following is an example of a daily eating schedule:
7 am – 4 TBS (2 oz.) light vanilla yogurt
8 am – Protein drink made with 4-8 oz. skim milk
10 am – 4-8 oz. water or Crystal Light® –

 

Sip until lunch
Noon – 2-4 TBS (1-2 oz.) strained fat-free cream soup or broth
2-4 TBS (1-2 oz.) fat-free, sugar-free pudding
2 pm – Protein drink made with 4-8 oz. skim milk
3 pm – 4 oz. water
4 pm – 4 oz. beef broth with unflavored protein powder
5 pm – 2-4 TBS (1-2 oz.) strained fat-free cream soup or broth
2-4 TBS (1-2 oz.) light vanilla yogurt
6 pm – Protein drink made with 8 oz. skim milk
8 pm – 4-8 oz. water or Crystal Light – Sip until bedtime
Find things to drink that you enjoy. If you can find five or six liquids that you love, sticking to the diet will be easier.
Foods not allowed include:
Drinks with added sugar, caffeine, or carbonation
Whole milk
Solid foods
Orange or grapefruit juices (can cause gastritis/ulcer formation)
Boredom is a liquid diet's biggest enemy. Many people eat not because they are hungry but because they are bored. After weight loss surgery, the motivation behind your pre-surgery eating habits does not magically disappear. Relying on distractions to keep busy and to keep your mind from focusing on food can help you cope. By relieving boredom, you decrease the urge to eat and the chance of cheating.
The following are some healthy distractions:
Reach out to your support network
Go for a walk in the fresh air
Meditate
Exercise
Watch a movie
Organize your bills, your, brain, your life
Draw, paint, or color
Knit, crochet, or do needlepoint
Read a book or write
Listen to music or a podcast
Try Variation
Variety is essential when it comes to a liquid diet. If you try to eat the same thing for a whole week, you will get burned out. Plan to have a rotation of food options to keep your diet from being too monotonous.
It's hard to get enough protein, fiber, and other essential nutrients from a liquid diet without supplementation. You will use protein supplements (usually in the form of shakes) to meet your daily protein requirements. Be sure to take all the recommended vitamins and supplements to avoid malnutrition.
Missing out on sleep triggers hormones that control appetite and satiety. According to a study published in the Annals of Internal Medicine, people who slept only four hours a night were hungrier and ate more than those who were well-rested. If you are tired, you
may also find yourself craving sugar or foods that are higher in carbohydrates. These foods are not options on your liquid diet.
If you feel like giving up, remember to sit back and relax and remember why you are doing this. Think about how great it will be to be healthy. Hiking or bike riding with your kids, playing sports with friends, or going up the stairs without losing your breath. Having the chance to say goodbye to your medication(s). It's this endgame that is your goal, and the only thing standing in your way is your current liquid diet. Don't let it stop you!
ProCare Health Vitamins and Supplements
At ProCare Health, we know what a big decision bariatric surgery is, and we celebrate that you've chosen to get healthy. We have a top selection of vitamins and supplements to support you at every stage of your recovery and beyond. Please contact us today with questions, to get a free sample, or to place an order.