Post Surgery
The Pre-Weight Loss Surgery Diet
by Anthony Benjamin on Oct 12, 2022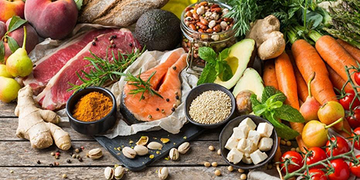 The Pre-Weight Loss Surgery Diet
Weight loss surgery isn't for everyone. First, you must understand the benefits and risks involved, and you must qualify for the operation. Typically, those who have a body mass index (BMI) of over 40 and who are more than 100 pounds overweight are eligible for the surgery. You may also be a candidate if your health is at risk, and your BMI is between 35 and 40.
If you have met the criteria for surgery, one of the most significant changes you will make is your dietary habits. Before your surgery, your doctor will give you guidelines for a special diet to follow before your operation. Your pre-weight loss surgery diet will likely begin two weeks before your surgery is scheduled. The goal of this diet is to help prepare your body for the procedure you are about to have and lower the surgical risks. It is different from a plan aimed at specific weight loss goals that reveal how you adapt to change and assess hurdles you may encounter after surgery.
Purpose of a Preoperative Weight Loss Surgery Diet
Your pre-surgery diet is designed to help reduce the amount of fat in and around your liver and abdomen. This fat reduction can help decrease the risk of complications during and after surgery. Also, lowering the amount of fat around your belly may make you a candidate for a minimally invasive laparoscopic procedure rather than a traditional open approach, which reduces recovery time and is easier on your body.
After surgery, your doctor and dietitian will give you a diet plan to follow that starts with clear liquids and gradually transitions back to solid foods as you recover. Your preoperative eating plan will get you accustomed to following a new eating regimen as you prepare for new eating habits after surgery and beyond.
For more information about post-surgery eating, read The Importance of a Liquid Diet and A New Normal for Eating.
What Can I Expect to Eat During a Pre-Surgery Weight Loss Diet?
Your preoperative weight loss surgery diet will consist of protein shakes and other high-protein, low-calorie foods. The increase in protein in a reduced-calorie diet helps preserve and protect muscle tissue and forces your body to burn fat for fuel. Also, protein helps your body recover after surgery.
To help you reach your pre-surgery goals, your doctor and dietitian will customize a pre-surgery eating plan for you. The following are typical diet changes that you will be asked to make:
Start drinking protein supplements (protein powder or shakes); these will be a primary source of protein after surgery.
Decrease your intake of all fats such as fatty meats, fried foods, whole milk products, and others.
Eliminate soda and decrease the number of sugary foods and drinks, ideally down to zero before your surgery. These are foods you will not be able to eat after surgery because your body will have more difficulty digesting them.
Decrease the amount of high-carbohydrate foods (white bread and white pasta).
Stop smoking.
Avoid alcohol.
Avoid binge eating.
Increase your vitamin and mineral supplement intake.
Avoid certain over-the-counter and prescription medications. Ask your doctor for specifics, but this may include aspirin, ibuprofen (Advil/Motrin), naproxen (Aleve), acetaminophen (Tylenol/Excedrin).
When changing to a restrictive diet, you may experience hunger. To reduce hunger pains, try eating every three to four hours, and drinking plenty of fluids in between meals.
Besides the dietary changes you will be asked to make in preparation for surgery, your doctor may also ask you to start — or increase — daily exercise and activity. If you don't follow an exercise regimen, start slowly with 30 minutes of activity a day, three days a week. Remember that you can break the 30 minutes into smaller intervals, so you aren't overwhelmed. Even small steps can make a difference.
Besides relaxing your body and mind, exercise helps prepare your body for surgery by promoting good circulation and can help prevent complications after surgery. By instituting a pre-surgery exercise plan, you are also getting a jump start on your post-surgery lifestyle.
Follow Your Doctor's Pre-Weight Loss Surgery Diet
Weight loss surgery can give you a new start toward fitness and health. Following your doctor's pre-surgery diet and nutrition guidelines will go a long way towards your success. The diet can teach you how to drink and eat well for the rest of your life.
ProCare Health Can Help You Begin Your Weight Loss Journey
Let ProCare Health help you on your weight loss journey. We provide high-quality vitamin, mineral, and protein supplements! Our once-daily vitamin is also specially designed for people who have undergone bariatric surgery. Our multivitamin uses easy to absorb ingredients so you can be confid/pages/contactent you are getting the absorption and nutrients needed to stay healthy. Please contact us today with questions, to get a free sample, or to place an order.
Please note: the information contained within this article is in no way to be considered medical advice nor is it meant to replace your medical team's recommendations. This article's purpose is to educate and allow the reader to make informed decisions with the help of his or her medical team.