Nutrition
Top 5 Apps for Bariatric Surgery Patients
by Anthony Benjamin on Oct 12, 2022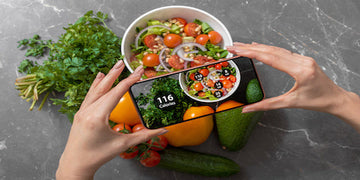 Top 5 Apps for Bariatric Surgery Patients
Today, technology is more intuitive and helpful for pre- and post-op patients of bariatric surgery than ever before. This includes many convenient resources that are accessible at the tips of your fingers through your smartphone, tablet, or computer! You may have found yourself browsing for apps that focus on weight loss before, but it's easy to get lost in the wide variety of options that are available. That's why ProCare Health is highlighting our top 5 apps for bariatric surgery patients. 
#1 Waterlogged 
Waterlogged is a daily hydration tracker that lets users track how much water they are consuming and when. This is all thanks to their handy programmable reminders that users can create to alert them for when it's time to drink. The app is free to download, but you will need to upgrade to premium for $3.99 to unlock the reminder function and to integrate it with other apps like Fitbit, MyFitnessPal, and Apple Health. 
It's especially important to start tracking your water consumption following bariatric surgery. In order to stay hydrated, you should aim for drinking between 64 and 96 ounces a day. Set a reminder to stop drinking water 30 minutes before or after eating to avoid uncomfortable conditions like dumping syndrome. Drinking while eating can cause food to move too quickly through your new pouch/sleeve, which can cause painful dumping syndrome and leave you feeling hungry. If possible, try to prepare yourself by getting used to a set water drinking routine before surgery takes place. To learn more about why hydration is so important after surgery, check out our LIVE event. 
#2 MyFitnessPal 
MyFitnessPal is a food and activity tracker that helps users to log all of their meals and exercises with ease. Signing up for a free membership provides access to their online food diary, database of over 300,000,000 food items, discussion forums for support and motivation, and a personalized diet profile. Use your camera to scan barcodes on products for quicker logging. You can also link your MyFitnessPal account with over 50 apps that support living a healthier lifestyle. 
MyFitnessPal encourages journaling your food, which can be a great tool to ensure your weight loss journey is successful. Tracking or journaling your food results in being more mindful of what you are eating and promotes making healthier choices! Check out our other mindful eating tips.
 #3 Fooducate 
Fooducate is another free health tracker that helps you keep tabs on the food you are eating, while providing you with essential details like the amount of calories, macros, and nutrients consumed. You can even use your mobile device or tablet to scan or search any food or drink for personalized nutrition grades and suggestions for healthier foods. This app also tracks exercises and offers thousands of nutrition tips, along with 50,000 tasty, healthy recipes. 
Remember that bariatric surgery is a tool and in order for this tool to work successfully, you will have to alter your eating habits. The sooner you can do this, the better. Get ahead of the game and download MyFitnessPal or Fooducate to familiarize yourself with what a healthier lifestyle tastes like today. 
#4 ThinkUp
 Your mental health is just as important as your physical health. ThinkUp is an app that promotes positive affirmations and self-motivation through a comprehensive list of more than 300 inspirational messages. Suffering from depression, anxiety, stress, or a lack of motivation? ThinkUp allows you to set notifications and reminders to help you develop positive thoughts. 
Building a support system is going to be crucial for your weight loss journey following bariatric surgery. You can never surround yourself with enough family members or friends during this time. However, you also have to practice self-care to get past your own negative feelings. If you are struggling with not having a support system, another option is attending support groups. ProCare Health offers support groups each month and they are free! 
#5 Happy Scale 
Tired of looking at the scale and feeling awful about yourself when you fall short of your weight loss expectations? Happy Scale makes sense out of why you're not achieving your goals by using mathematical analysis. Learn what your true progress is by seeing your own trends and avoid hitting plateaus with their moving average progress tracking options. You'll also be able to predict what you will weigh in the future when you remain committed to your goals.
 Watching the scale isn't for everyone, though. As long as you set realistic weight-loss goals, you will start losing weight before you know it. 
Don't Forget to Incorporate Bariatric Multivitamins! 
Once you've downloaded one or all of these amazing apps, don't forget to incorporate bariatric multivitamins from ProCare Health to your routine. Our products were developed with bariatric doctors and dietitians to provide you with an affordable solution to get your body the nutrients it craves. Take one, once daily, to avoid setbacks from bariatric surgery like malnutrition and vitamin deficiency.