Nutrition
How to Navigate Thanksgiving After Bariatric Surgery
by Brenda Hoehn on Aug 23, 2023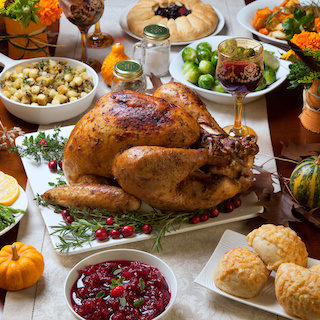 How to Navigate Thanksgiving After Bariatric Surgery
Preventing weight gain is a challenge for everyone around Thanksgiving. Eating sweet potato pie, honey-glazed ham, turkey with stuffing, and other holiday dishes can take a toll on one's waistline. The good news is this is avoidable! Aim to maintain your weight with these steps to navigating Thanksgiving after bariatric surgery.
#1. Stay Active
Regular exercise supports healthy weight loss, so don't push your workout routine aside during the holidays. This doesn't have to be boring! Go on a hike, play a sport, or go to a class at the gym. You can even get family and friends involved.
#2. Don't Arrive Hungry
Being too hungry can lead to food choices and amounts you didn't have in mind. To get around this, have a small snack or meal before heading out to an event with food. A protein bar or protein shake will do the trick!
#3. Eat Protein First
Focus on eating protein-rich foods first, like turkey and ham, vegetables next, and starches last.
A sufficient amount of protein is recommended for bariatric patients for a number of reasons. Protein not only helps curb hunger between meals but also aids in proper wound healing after surgery, helps your body burn fat instead of muscle, and boosts your metabolism.
#4. Indulge in Moderation
As with any food or drink after bariatric surgery, you can enjoy your favorite holiday foods in moderation.
Unless you're following the four-stage post-op diet, savor two or three bites of a dish or dessert you look forward to every year as part of a balanced, portion-controlled meal. Be sure to chew your food slowly and thoroughly, as this makes sure that no food gets stuck.
#5. Follow These Recipes
When going out to someone else's place for Thanksgiving, you may be asked to bring a dish to share. Take advantage of the opportunity to make a healthy dish that everyone can enjoy. Here are three recipes you can make!
Caramelized Brussels Sprouts With Pancetta
Ingredients:
Kosher salt
3 pounds brussels sprouts
6 tablespoons extra-virgin olive oil
6 shallots, thinly sliced (1 1/2 cups)
2 ounces thickly sliced pancetta, cut into 1/4-inch dice
1/4 cup oil-packed sun-dried tomatoes, drained and chopped
Directions:
In a large pot of boiling salted water, cook the brussels sprouts until tender-crisp, 5 minutes. Drain the water. Pat the brussel sprouts dry and cut in half lengthwise.
In a large, deep skillet, heat 2 tablespoons of oil. Add the shallots and cook over moderately low heat, occasionally stirring, until lightly browned, 10 minutes. Put into a bowl.
Add the remaining 1/4 cup of oil to the skillet. Add the brussels sprouts cut side down and the pancetta. Season with salt and cook over high heat, occasionally stirring, for 10 minutes until the sprouts are browned and tender.
Add the sun-dried tomatoes and shallots and cook, occasionally stirring, until warm, 5 minutes.
Season with salt and then transfer to a bowl and serve.
Garlic Butter Mashed Cauliflower
Ingredients:
1/2 head of cauliflower, medium-sized
2 cloves of garlic, peeled
2 tablespoons unsalted butter
1/4 teaspoon salt
1/8 teaspoon black pepper
Optional: fresh thyme for garnish
Directions:
Add cauliflower and garlic cloves to a boiling pot of water. Cover and cook until very tender, 8 to 10 minutes. Drain well and pat dry.
Add the hot cauliflower and garlic cloves to a food processor with the butter, salt, and black pepper. Process until very smooth.
Transfer to a serving dish and top with thyme if desired.
Serve warm.
Spinach and Feta Quiche With Sweet Potato Crust
Ingredients:
2 medium sweet potatoes, peeled and cut into 1/8-inch thick slices
1 teaspoon canola oil
1/2 cup sliced onion
1 (5-oz.) bag fresh baby spinach
1/2 cup 1% low-fat milk
1/4 teaspoon kosher salt
1/4 teaspoon black pepper
1/4 teaspoon crushed red pepper
4 large eggs
2 large egg whites
1.5 ounces feta cheese, crumbled (about 1/3 cup)
Directions:
Preheat the oven to 350°F. Coat a 9-inch pie plate with cooking spray. Cut the slices of sweet potatoes in half and, rounded side up, layer them on the bottom and sides of the plate in slightly overlapping centric circles. Coat with cooking spray.
Bake for 20 minutes or until potatoes are slightly tender. Place the pan on a wire rack. Increase the oven temperature to 375°F.
Heat a large nonstick skillet over medium heat. Add oil and onion, sauteing for 3 minutes. Then add spinach and sauté for 3 minutes. Remove from heat and cool.
Combine milk, salt, pepper, eggs, and egg whites in a medium bowl. Stir with a whisk. Arrange the spinach mixture in the crust and pour the egg mixture on top. Sprinkle with feta.
Bake at 375°F for 35 minutes or until the egg mixture is set. Let stand for 5 minutes and then cut into wedges.
Stay Focused on Your Goals With ProCare Health
At ProCare Health, we care about your health and nutrition. Our experts make it easy to understand post-bariatric surgery needs so you don't feel overwhelmed. Simply request a free sample, view recordings of our live video events, or reach out to a member of our team. Give us a call at 877-822-5808 or contact us today with any questions!