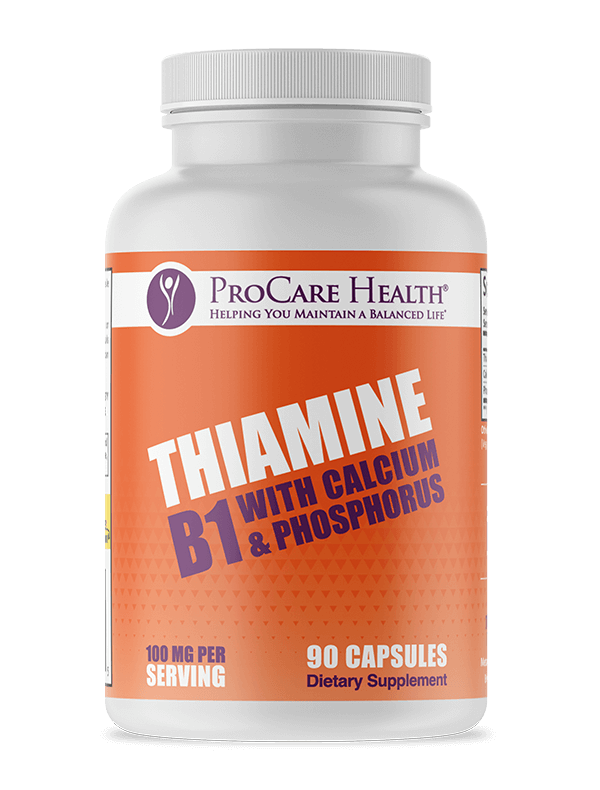 Thiamine B1 | Capsule | 90 Count
100mg per Serving
Enables the Body to use Carbohydrates as Energy
Sale price
$9.99
Regular price
MSRP
$13.97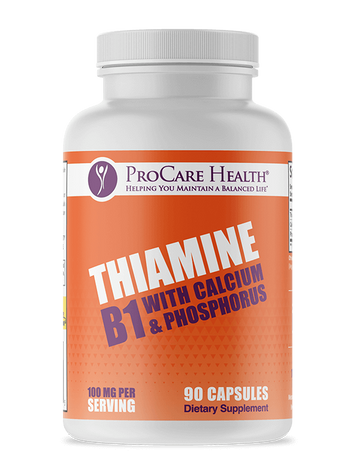 Thiamine B1 | Capsule | 90 Count
Sale price
$9.99
Regular price
MSRP
$13.97
Description
Supplemental Facts
Reviews
One of the most important groups of vitamins the body requires to thrive and function properly are B Vitamins.
Thiamine, also known as Vitamin B1, is a water-soluble vitamin that your body cannot produce on its own and is used by all tissues in the body.
Benefits of ProCare Health's Thiamine:
Promotes Healthy Metabolism
Thiamine is essential for the body's ability to produce ATP, which is utilized in the conversion of carbs into glucose - the body's preferred source of energy used to keep your metabolism running efficiently. It is also active in the production of red blood cells, which are crucial for sustained natural energy.
Much of the immune system is located in your digestive tract. Thiamine helps maintain the muscle tone along the walls of the tract. A healthy tract enables the body to absorb nutrients from your food more efficiently. 
Vitamin B1 has the ability to stimulate the relay of muscle and nerve signals sent from the brain to the eye.
Promotes Cardiovascular Health
Our heart relies heavily on the neurotransmitter called Acetylcholine to relay signals between the nerves and muscles in order to maintain proper cardiac function. Having enough Thiamine in the body is crucial for producing Acetylcholine.
Along with other B Vitamins, Thiamine is sometimes called the "anti-stress" vitamin because it can help the body withstand stressful situations.
Offers Anti-Aging Benefits
Thiamine is a powerful antioxidant used to defend against environmental damage to the skin. It also aids in cell reproduction, which helps to keep the skin looking young and healthy.