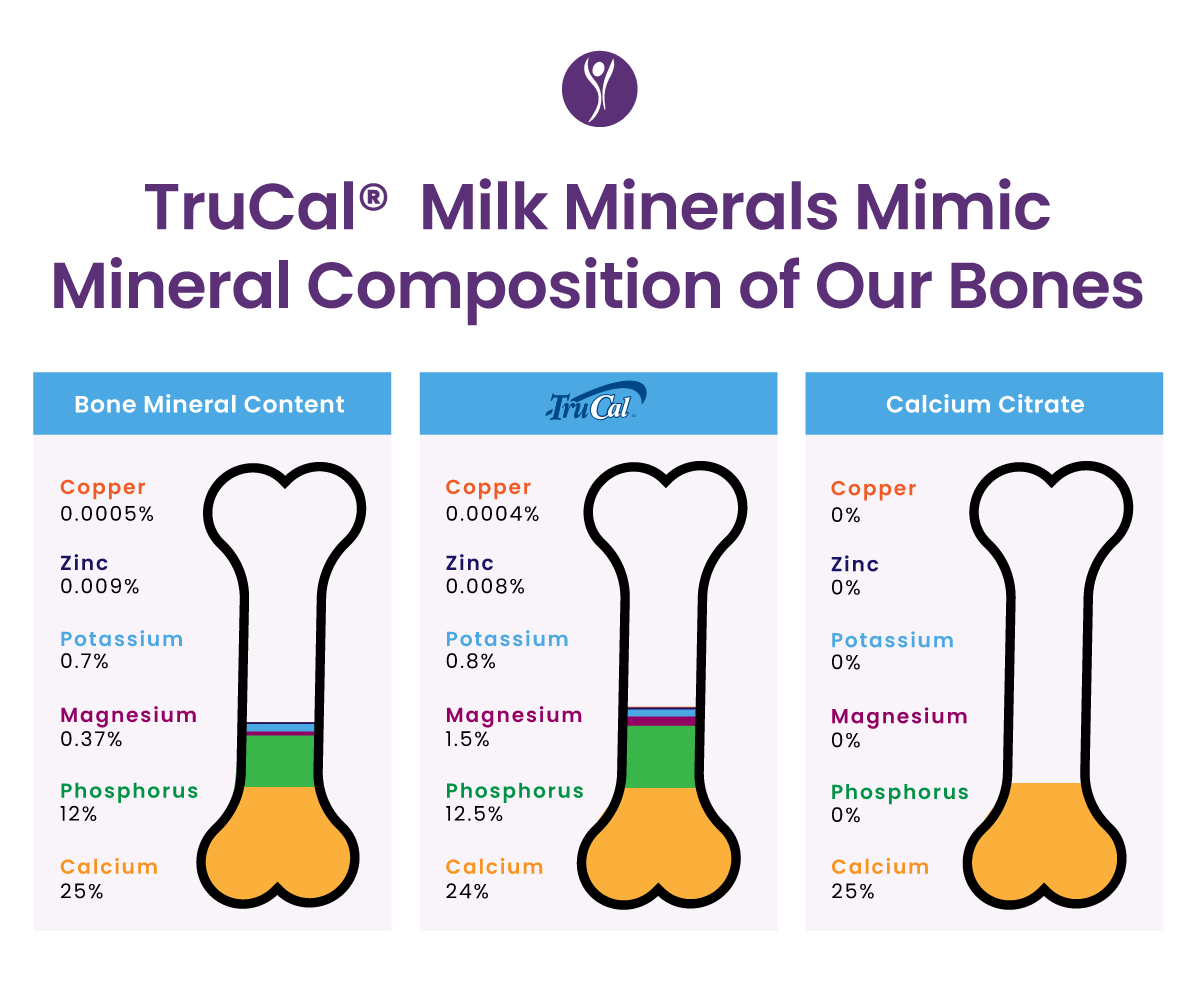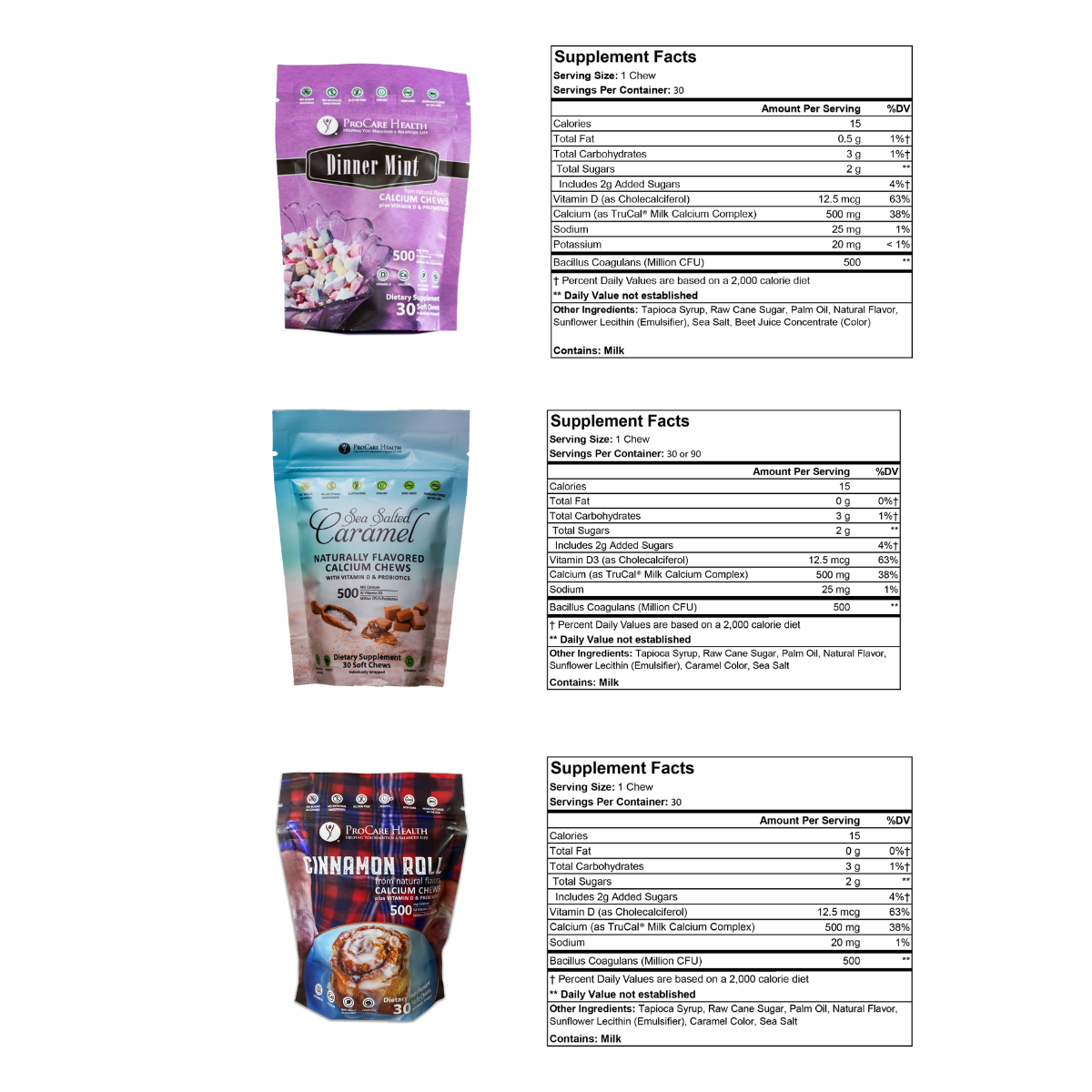 Calcium Soft Chew | Variety Pack | 90 Count
Three Amazing Flavors: Cinnamon Roll, Sea Salted Caramel, and Dinner Mint
Only All-Natural ingredient Calcium Chew on the market!
Creamy, non-gritty texture
500mg Calcium, 500 IU Vitamin D3, 500 million CFU's Probiotics per chew
Non-GMO | Certified Kosher | Gluten-Free
No Artificial Sweeteners, Sugar Alcohols or Artificial Additives
Individually Wrapped Chews
Manufactured in the USA
Sale price
$32.99
Regular price
MSRP
$42.84
Calcium Soft Chew | Variety Pack | 90 Count
Sale price
$32.99
Regular price
MSRP
$42.84
Description
Supplemental Facts
Reviews
Enjoy the creamy texture of our Calcium Chews while getting your Calcium, Vitamin D, and a dose of Probiotics!

Our Calcium Chew is specially formulated for bariatric patients and delivers Calcium in a non-gritty way. Each chew provides 500mg TruCal® Calcium, 500 IU of Vitamin D3 to support Calcium absorption, and also contains 500 million CFU's of Probiotics to help with digestion. 
All that packed in a delicious soft chew that you will love to take!
Sweetened with tapioca syrup and raw cane sugar, there are no artificial sweeteners or sugar alcohols, so you can feel confident you are maintaining your optimum Calcium levels to support your healthy, active lifestyle. If you find taking Calcium tablets difficult, individually wrapped soft chews make a great alternative to nourish your bones anytime, anywhere; with or without food.
DIRECTIONS: Take one chew up to three times daily or as directed by your healthcare practitioner. Take at least 2 hours apart from Iron to maximize absorption of both supplements.
Trucal® is an all-natural, Lactose free Calcium with a higher absorption rate than Calcium Carbonate, and equal too or greater than Calcium Citrate. Unlike other Calcium forms, Trucal® offers a balanced profile of essential minerals and antioxidants. (All the healthy parts of milk with very low lactose) thus, making Trucal® the superior choice for achieving your optimal bone health. Like Calcium Citrate, TruCal does not require stomach acid for absorption, is non-constipating, does not increase the risk for kidney stones, and doesn't need to be consumed with food; making TruCal a comparable, if not more complete, Calcium option than Calcium Citrate.
Learn more about TruCal® by watching the video below or click here.  
How many soft chews should you take? Always follow your doctor/dietitians recommendation. Values below are based on the ASMBS guidelines.  
No weight loss surgery:

 

2 to 3 chews daily (based on RDV of 1000-1500mg Calcium depending on age)
Gastric Sleeve surgery:

 

2 to 3 chews daily = 1000 to 1500mg Calcium
Gastric Band surgery:

 

2 to 3 chews daily = 1000 to 1500mg Calcium
Gastric Bypass surgery:

 

2 to 3 chews daily = 1000 to 1500mg Calcium
Biliopancreatic Diversion/Duodenal Switch (BPD/DS) surgery:

 

3 to 4 chews daily = 1500 to 2000mg Calcium