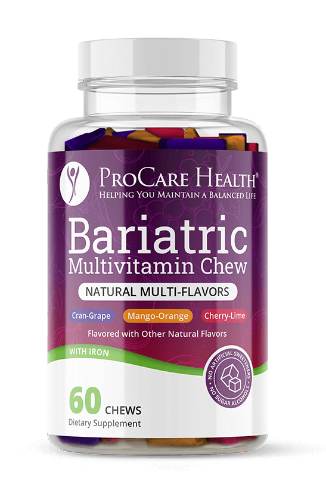 Bariatric Multivitamin | Soft Chew | Multi-Flavor | 60 Count
Three All-Natural Flavors: Cran-Grape, Mango-Orange, and Cherry-Lime
Flexible Serving Size
Includes Iron
No Artificial Sweeteners
No Sugar Alcohols
Gluten-Free | Soy Free | Dairy-Free
Sale price
$30.95
Regular price
MSRP
$39.99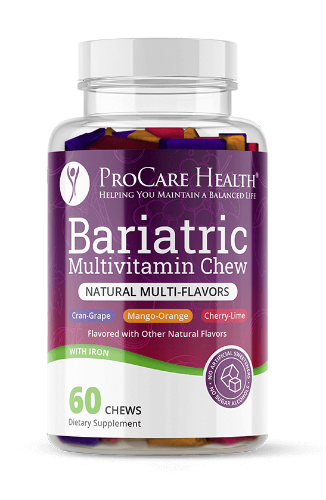 Bariatric Multivitamin | Soft Chew | Multi-Flavor | 60 Count
Sale price
$30.95
Regular price
MSRP
$39.99
Description
Supplemental Facts
Reviews
ProCare Health's Multivitamin Soft Chews have been developed to provide essential vitamins and minerals your body needs after undergoing bariatric surgery or a restrictive procedure. We have used the same high-quality processes and ingredients as seen in all our other ProCare Health products!
Each bottle contains 60 individually-wrapped, soft, smooth, and flavor-filled chews. Your taste buds will never get bored with the 3 flavor options in every bottle!
Cranberry-Grape  ●  Mango-Orange  ●  Cherry-Lime
How many soft chews should you take? Always follow your doctor/dietitian's recommendation.  
No weight loss surgery: 1 chew daily

Balloon or Gastric Band surgery: 1 chew daily
Other surgeries: 2 -6 chews daily based on doctors' recommendations.

Examples of additional surgeries: Gastric Bypass RNY/Gastric Bypass surgery, 

Biliopancreatic Diversion/Duodenal Switch (BPD/DS) SADI surgery. 
Trust and Transparency - All of our Multivitamins are independently third-party tested to make sure they meet the potency we list on our label. We are the only company that makes these results available to you. You can feel confident you are getting the important supplementation your body needs to stay healthy and energized.