Supplements
Vitamin Patches: Do They Work?
by Brenda Hoehn on Aug 23, 2023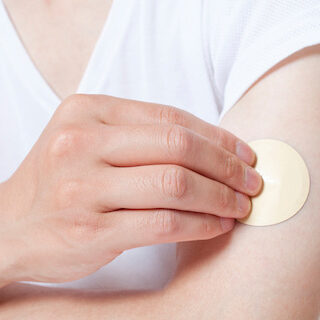 Vitamin Patches: Do They Work?
A patch you place on your skin to absorb vitamins sounds enticing compared to taking an oral supplement. Yet this offering, while increasing in popularity, has drawn skepticism. Are vitamin patches effective, and if so, do they work for bariatric patients?
Continue reading to discover the history of transdermal patches, their effectiveness in delivering medications and vitamins, and the best solution for consumers, especially those who have undergone bariatric surgery.
What Is a Transdermal Patch?
Transdermal patches are a form of drug delivery. The adhesive patch delivers a dose of medication, which is absorbed by the many layers of skin to get to the bloodstream.
In 1979, the first FDA-approved patch for motion sickness appeared. Then nicotine patches came out in 1992, birth control patches in 2002, and pain patches in 2008.
Do Vitamin Patches Work?
Recently, non-medicinal vitamin patches entered the market. Yet, without the research and efficacy to back it up, it's difficult to recommend these patches as a means of meeting your daily vitamin requirements.
Research is in the early stages, and the results are not promising. For instance, one small review published in 2019 looked at the effectiveness of vitamin patches for patients who had laparoscopic Roux-en-Y gastric bypass (LRYGB), a form of bariatric surgery.
For one year post-surgery, 17 patients used vitamin patches, and 27 took oral vitamin supplements. The results are as follows.
82.35% (14 patients) of the patch group and 40.74% (11 patients) of the pill group had at least 1 deficiency.
81% in the patch group were deficient in vitamin D, compared to 36% in the pill group.
The patch group had lower concentrations of vitamins B1, B12, and D.
The review concluded that future large studies are needed before vitamin patches can be recommended to bariatric patients.
The FDA's View on Vitamin Patches
In short, buyer beware. Vitamin patches are not classified as a supplement by the FDA, are not FDA-approved, and there is not enough research yet to prove they work.
The FDA says a dietary supplement is a product intended for ingestion. In other words, vitamin patches are not supplements, and should not be labeled or marketed as such. The FDA also considers any vitamin patches being falsely marketed as dietary supplements as health fraud.
Are Chewy Vitamins Effective?
After surgery, bariatric patients are at an increased risk of developing nutritional deficiencies due to:
decreased food intake,
food intolerances,
the bypass of absorption surface areas,
the reduction of gastric secretions,
and vomiting.
These deficiencies are commonly calcium, copper, folate iron, zinc, and vitamins A, B12, D, E, and K.
While vitamin patches claim to be easier than hard-to-swallow vitamins, an effective alternative exists with chewy vitamins.
That's where ProCare Health comes in! We believe vitamins should enhance life, not complicate it. This belief drives us to continue creating innovative products to fill the unique needs of weight loss surgery patients.
Lab-Tested Supplements for Bariatric Patients
To maintain the highest standards of quality, ProCare Health supplements are produced in the USA, lab tested, and reviewed through patient results. We have every lot third-party tested for quality. Plus, we post the test results for everyone to see; no other company provides this level of transparency for bariatric patients.
Bariatric Multivitamin Chewable Tablets are taken once-a-day and come in citrus or fruit punch flavors, and can have iron or be iron-free. These soft, easy-to-chew tablets meet or exceed ASMBS guidelines, are third-party independently tested for quality, and are gluten-free and dairy-free.
Bariatric Multivitamin Soft Chews have a flexible serving size of 2 to 4 chews a day and come in cran-grape, mango-orange, and cherry-lime flavors. They have iron, do not have artificial sweeteners or sugar alcohols, and are gluten-free, soy-free, and dairy-free.
Meet Your Nutritional Needs With ProCare Health
Ideally, your vitamin should be high quality, cost-effective, and meet all of your nutritional needs. As such, ProCare Health is dedicated to providing customers with the best quality vitamins at the best possible prices.
To get started, visit our online store and contact us with any questions!