Nutrition
The Importance of Eating Protein After Bariatric Surgery
by Anthony Benjamin on Oct 12, 2022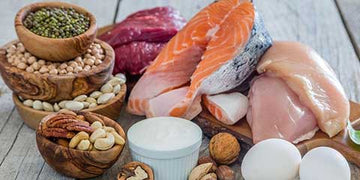 The Importance of Eating Protein After Bariatric Surgery
Protein Power
It probably seems that every day there's a new diet or article touting the wonders of protein.
So, what's the big deal about protein and why is it important? For starters, it's part of every cell in your body and comprises approximately 15% of your body weight. It's helpful for weight management, maintaining muscle mass and bone health.
High protein diets can help reduce body fat and maintain lean body mass during weight loss. Increased protein intake can help you feel full longer and may also increase thermogenesis, which means the body must burn more calories to digest higher protein foods.
Why Protein is Even More Important After Bariatric Surgery
Bariatric surgery is a huge, life-altering decision. It can change the way you look and feel about yourself but also brings new nutritional challenges and deficiencies. You are no longer able to consume as many calories and are already at risk of losing muscle. Additionally, if your diet doesn't contain enough protein, you may notice your hair thinning within 6 months to a year after weight loss surgery.
What good is losing all that weight if you aren't healthy and feeling your best? That's where adequate protein comes into play. Every single cell, muscle, and organ in your body is made up of protein. Unfortunately, the body doesn't store protein for later use like other micronutrients (carbohydrates and fats) so you need to make sure you consume enough, otherwise, your body will begin to break down lean body mass to compensate. For post-bariatric surgery patients, consuming high-quality protein is extremely important for several reasons:
Protein is essential to help you heal from the surgery and wound itself.
Protein keeps you full longer, so you'll be less tempted to snack between meals.
Protein contributes to a stronger immune system and makes your hair, skin, and nails healthier.
Protein helps minimize muscle loss which can help minimize sagging skin after surgery.
The word Protein comes from the Greek word "proteios," which means first place or primary. As you can see, for a bariatric surgery patient, getting enough protein in your diet truly needs to be first place or primary in your diet!
How Much Protein is Necessary After Surgery
Protein requirements after surgery can vary from person to person depending on several factors including gender, age, activity level, and your particular surgery. That's why it's so important to work with your health care team to determine the amount that is right for you.
In general, it's recommended that you consume anywhere between 60-120 grams daily, but many patients fall short of this goal. To make sure you're getting enough, always start with protein. Of course, fruit, veggies, and other carbohydrates are part of a healthy diet, but always make protein your top priority. In the first several weeks or months after surgery, most of your protein will be from shakes, but eventually, as you begin to reintroduce solid food into your diet, you should make sure you're eating a healthy source of protein with every meal and snack.
The Best Sources of Protein for Bariatric Patients
Here's a list of some of the best sources to get make sure you get enough protein:
Bariatric protein shakes such as ProCare Health's

 

shakes and liquids
Lean Meat (chicken, fish, turkey), 7g per oz
Seafood (shrimp, lobster, and scallops), 8g per oz
High-quality, nitrite-free meat snack sticks like Ostrim, 14g per stick
Tofu, 2g per oz
Cheese, 6g per oz
Yogurt, 1g per oz
Milk, 1g per oz
Green leafy vegetables, 5g per cup
Beans, 4g per cup
Nuts, seeds, and nut butters, 5g per oz
Make sure you buy lean cuts of meat and low-fat cheese and yogurts to reduce the number of calories and fat in your diet. Non-or low-fat plain Greek yogurt is an excellent choice as it contains more protein and less sugar. This will help keep you full while saving on calories. Furthermore, adding protein powders to foods that aren't typically high in protein is another way to up your protein consumption.
The ProCare Protein Difference
Protein Powders
At ProCare Health, we offer several delicious protein powder options, one of which is our Whey Isolate Protein Powder. This protein powder, available in chocolate and vanilla, is a perfect addition to shakes, smoothies, and even coffee! Here's what makes this product stand out:
26g of whey isolate protein per serving

Added electrolytes

An exclusive immunity blend

A digestive enzyme blend 

30 servings per bag

And it is gluten-free
We also have ProCal Unflavored Whey Protein with 5 grams of protein. This gluten-free protein powder can be added to oatmeal, shakes, yogurt, and more!
Fruity, Delicious Liquid Protein
If you're looking for something fruity, another fantastic option is LiquaCel Liquid Protein. It's a great tasting hydrolyzed collagen protein that comes in 5 different flavors: Grape, Lemonade, Orange, Watermelon, and Peach Mango! Perfect as a refreshing, sweet treat on a hot summer day or during that afternoon slump when your body just wants a little pick-me-up.
16 grams of protein in a 1 oz serving
Can be consumed straight or diluted in your favorite drink
Sugar and gluten-free
Collagen and whey blend
Only 90 calories per serving
Great for your hair, skin, and nails
Comes in convenient 1 oz multi-flavor single-serving packs or choose a 32 oz bottle of your favorite flavor.
For extra fun and zest, think outside of the box and use Liquacel to make all kinds of high-protein, low-calorie snacks. Think slushies, Jell-O, and Snowcones; add it to yogurt or make salad dressing with your favorite flavor. The options are limitless!
Make the Most of Your Exciting New Journey
Our team at ProCare Health has direct experience with how complicated and overwhelming getting the proper nutrition can be after weight loss surgery. That's why we do what we do! Our company is committed to giving you only the very best, most convenient nutritional supplementation, vitamins, calcium and minerals, and probiotics in as few steps as possible while offering educational information and support to make staying healthy easier.
Contact us today with any questions, ask for a recipe sheet, or order a free sample, and we'll show you how to have fun with our products while getting your daily protein needs met in a variety of healthy and delicious ways. 877-822-5808