Nutrition
Can Bariatric Patients Take Gummy Vitamins?
by Anthony Benjamin on Oct 12, 2022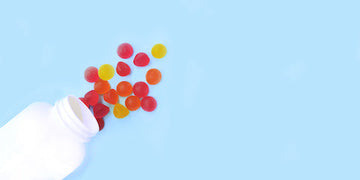 Can Bariatric Patients Take Gummy Vitamins?
Gummy vitamins are popular for their color, flavor, shape, and texture; after all, they resemble gummy candies! Yet, it turns out gummy vitamins are not what's best for bariatric patients. 
Our experts share why vitamins are important, why eating gummy vitamins after bariatric surgery is not recommended, and what you should take instead!
Why Do Bariatric Patients Need Vitamins? 
After weight loss surgery, it's essential to get the right amount of vitamins and minerals for your recovery and overall health. After all, they ensure you can carry on vital functions like regulating your appetite, brain activity, energy, metabolism, thyroid, and more!
While nutritious foods have vitamins and minerals, as a bariatric patient, you'll need to supplement your diet to keep from becoming malnourished. That is because 
you'll be eating less food,
your body won't absorb nutrients like before,
and some procedures, like duodenal switch and gastric bypass surgeries, are both restrictive and malabsorptive.
Eating Gummy Vitamins After Bariatric Surgery is Not Recommended 
The bottom line is this: gummy vitamins do not provide enough nutrients for patients after bariatric surgery.
They Have Too Much Sugar 
The main reason to stay away from gummy vitamins is that they contain too much sugar. Oftentimes, the main ingredient is high fructose corn syrup. Gummy vitamins labeled as sugar-free may have sugar alcohols instead, which are listed on the nutrition label as carbohydrates.
Due to the high amounts of sugar, there's also the possibility of dumping syndrome. This is when foods, especially those high in sugar, move too quickly from the stomach to the duodenum, the first part of the small intestine. Symptoms include abdominal cramps, feeling bloated or too full, nausea, and diarrhea.
They Have Fewer Ingredients You Need 
Gummy vitamins are less potent. Manufacturers use other ingredients to achieve the chewy texture and bright colors, leaving less room for the nutrients you need. It would take several gummy vitamins to equate to one bariatric multivitamin. 
Another reason is that these vitamins can lose potency over time or after exposure to high temperatures. Depending on when they were made and sold, or if they were in the heat, you might not be getting the nutrients each label indicates.
They Can Be Hard to Digest 
Weight loss surgery patients do not digest the same way as before surgery. Patients have a smaller pouch and their digestive enzymes are affected. 
Gummy vitamins, made with either gelatin or pectin, can cause problems if they're not chewed well. The lack of stomach acid may not be enough for the body to break down the vitamin and absorb the nutrients.
Vitamins and Minerals Needed After Bariatric Surgery 
To stay in good health, bariatric patients need supplemental vitamins and minerals. Otherwise, they could form problems associated with nutrient deficiencies:
Vitamin A: night blindness and bitot's spots
Vitamin B1 (thiamin): problems with the heart and damage to the central nervous system
Vitamin B12: anemia and nerve problems
Vitamin D: muscle weakness and fractures
Vitamin K: bruises and excessive bleeding
Calcium: muscle aches and osteoporosis
Copper: anemia and thyroid problems
Iron: anemia and hair loss
Folate: anemia and damage to the peripheral nervous system
Zinc: wounds that won't heal and a decreased sense of taste and smell
Best Multivitamin After Bariatric Surgery 
Are you looking for the best multivitamin after bariatric surgery? One that is sugar-free, packed with nutrients, and easy to digest? ProCare Health has you covered! 
Our Once Daily Bariatric Multivitamin | Capsule delivers 22 essential nutrients and is gluten-free, lactose-free, and easy to swallow. The vegetable-based capsule is also fast dissolving, so having less stomach acid is not a problem. 
For a chewy alternative, try our Once Daily Bariatric Multivitamin | Chewable soft, easy-to-chew tablets, available in fruit punch or citrus flavors. 
Do you need something more specific? If so, the Once Daily Bariatric Multivitamin Capsule | DS / SADI is specifically formulated for those who had the duodenal switch or SADI procedure. There's also the Bariatric Multivitamin | Prenatal capsule, which promotes healthy brain and spinal development. 
Shop ProCare Health Today! 
ProCare Health is committed to bringing weight loss patients the best vitamin and mineral supplements on the market. When you shop with us, you'll confidently get the nutrients you need to stay healthy. To answer any questions or get your free sample, contact us today!