Nutrition
7 Smart Tips to Help Make Your Thanksgiving Meals Healthier
by Anthony Benjamin on Oct 12, 2022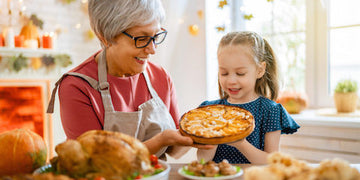 7 Smart Tips to Help Make Your Thanksgiving Meals Healthier
Feel that chill in the air? November is finally here, which means Thanksgiving is just around the corner! While you might be counting down the days until you can share a delicious meal with your loved ones, your actual meal plan might currently be at the back of your mind. The holiday season – especially Thanksgiving – can be a challenging time for anyone watching their diet, and those on a bariatric diet are definitely not an exception. Fret not – with a few healthy adjustments, you can still enjoy the day and the meal to its fullest! Here are 7 easy ways you can help make your Thanksgiving meals healthier this year (without noticing the difference)!
Your body needs protein and plenty of fluids throughout the day, and Thanksgiving is no exception! Don't arrive starving – plan ahead and reach for a healthier breakfast and snacks to keep you fueled. We suggest enjoying a healthy breakfast or protein shake, which also can help prevent you from overeating!
Focus on the Turkey First
It's always wise to set your focus on eating protein-rich foods before anything else. If you don't, you may be too full to eat them. Besides, we all know that turkey is usually the star of the show on Thanksgiving Day, so give it the attention it deserves! Shoot for between 4 and 6 ounces of turkey, and choose dark meat since it is usually moister and easier to swallow than the drier white meat. Remember to remove the skin before digging in!
Vegetables boast a host of vitamins, minerals, and the necessary fiber you need, which is why you can absolutely load them up on your plate! The only exception is starchy veggies like corn, peas, potatoes, and squash – those need to be eaten in moderation. Keep your favorite vegetables like peppers, carrots, celery, broccoli, and cauliflower within reach. Pair them with hummus or a light dip to add a bit of flavor!
Choose a Small Plate and Savor Your Food
Speaking of plates, we recommend using a small one like a salad plate this Thanksgiving. Doing so can help you keep your portions in check and make you feel like you're eating more than what you are. After you load it up, take your time and eat your meal mindfully. Chew slowly and thoughtfully, and tune into your body's cues to determine that you're full.
Make a Few Mindful Switches
Most people love stuffing, gravy, mashed potatoes, and of course, pie on Thanksgiving Day. You don't have to feel like you can't enjoy these – just a few smart changes can make these beloved staples healthier! Choose applesauce instead of oil or butter when baking, and opt for whole-wheat dinner rolls and grains. Adding a little bit of fat-free yogurt and herbs to your mashed or baked potatoes instead of butter lightens up this dish without compromising the taste. As for pie, opt for a small, savory slice of your favorite – without the crust.
Although this isn't a food-based tip per se, it can definitely help keep your Thanksgiving on the healthier side! Instead of parking yourself in front of the TV after the holiday meal, go for a walk with your family or take a hike at your favorite park. This can become a new tradition that the whole family can enjoy!
Keep Your Specific Diet in Mind
Some bariatric patients need to follow stricter dietary guidelines, especially if they've recently had surgery. If you've had gastric bypass surgery or other similar bariatric operations within the past 6-12 months, you are likely still adjusting to your new life and will need to be more careful with what you eat. You may find that certain foods like rolls, stuffing, and cranberry sauce might be harder to tolerate. Additionally, this might not be the best time to try a new untested food if you're still within the first year of recovery. It's no fun being sick or uncomfortable instead of celebrating the day with your loved ones! Know your limits, listen to your doctor's advice, and stick to your plan as much as you can!
Want to get the most out of the holidays this year? Trust the experts at ProCare Health to help you get all of the supplements you need. We will take your preferences, surgery type, and health needs into consideration and find the right products for you. Reach out to us or call (877) 822-5808 today to get started!