Life After Surgery
Wardrobe Changes After Weight Loss Surgery: How to Dress Your New Body
by Anthony Benjamin on Oct 12, 2022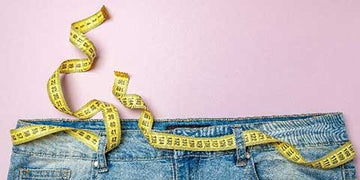 Wardrobe Changes After Weight Loss Surgery: How to Dress Your New Body
Within the first year after bariatric surgery, your body will undergo several changes. Apart from following a new diet and exercising every day, there is another lifestyle change you'll have to make. Dressing for the new you.
Although buying new clothes is an exciting part of losing weight, it can also be overwhelming and expensive, especially if you don't know where to begin.
By finding clothes that fit your new body – and your new lifestyle – you can finally feel confident in your skin.
How to Shop for Clothes After Weight Loss Surgery
Discover Your New Body Type
After weight loss surgery, your body will look and feel different than ever before. As you progress through various stages of weight loss, you should learn how to dress your new body without wasting time or spending too much money.
Before you take a trip to the mall or your favorite boutique, figure out what your new body type is. Find a tape measure and measure your shoulders, bust, waist, and hips. The difference between the numbers will help you determine your current body shape.
Next, use a body shape calculator to determine which category you fall in. There are several of these calculators online, so it should only take a couple of minutes to figure out.
Whether you are an hourglass or pear shape, you can find trendy, stylish clothing that boosts your confidence and accentuates your new body.
Shop Your Closet
From a great pair of jeans to a classic black blazer, everyone has clothing in their closet they love. Most people hold onto a few key items, even if they no longer fit into them.
Before you invest in a brand new wardrobe, search your closet for items that still work for you. You can organize your closet into three piles: one for things you can still wear, one for items you can wear in the future, and one for clothes that are too big.
Shop for Your Current Size
As you lose weight, you will probably go through a couple of clothing sizes before you achieve your final weight. Rather than buying clothes for your future body, only buy clothing for the body you currently have.
While it may sound like a waste of money, you'll feel much better in the long run. You'll feel more comfortable in clothing that flatters your current size.
If you're between sizes, you can opt for the smaller size as long as it fits well. The more flattering your clothing, the more confident you'll feel in your skin.
Try Everything On
Before weight loss surgery, you may have avoided the dressing room. When you start shopping for new clothes, you need to try everything on to avoid spending money on clothes that are too big or too small.
By trying everything on, you can find new, versatile clothing that works for you and your new body. You can also learn what types of patterns, fits, colors, and styles fit you best.
Choose Versatile Basics
While you may be tempted to buy trendy clothing, stick with basics that are practical, versatile, and flattering. Whether a little black dress or a dark pair of jeans, you can create a variety of outfits with basics.
Additionally, the basics you buy should depend on your lifestyle. If you are a stay-at-home mom, you may opt for casual clothing such as black leggings or t-shirts. Casual clothing can work as activewear as you continue to lose weight, but it can also work in public places.
If you work in an office environment where dressier outfits are required, shop for different blazers, blouses, and pants in coordinating colors so that you can create several outfits from a few outfit staples. You will get longer wear out of wrap or tie-style dresses that will give you chance to tighten them as you lose weight and your body changes. Also, a tunic shirt over leggings with a belt can be flattering.
Be prepared that many people also find their shoe size decreasing as they lose weight. While the length and actual bone structure of your feet will not change, the width might. As you lose weight, the pressure on your feet and lower body also lowers, reducing swelling. As a result, a smaller shoe size may fit better.
Alter Your Favorite Clothing
If you have a pair of jeans that you love, it can be difficult to part with them if they no longer fit. Fortunately, once your weight has stabilized, you can hire a tailor or alter your favorite pieces to fit your new body.
Typically, garments can be taken in to accommodate a couple of sizes, and it can cost less money than buying brand new clothes. Plus, you can fill your closet with custom pieces that fit your body perfectly.
Shop Secondhand
If you have clothing that no longer fits, you may choose to donate everything to a local consignment store. However, depending on where you are in your weight loss journey, you can also consider buying your clothes secondhand.
While most of the clothing is used, you will likely find pieces that show little to no wear. You may even find brand new, never worn clothing with the tags attached. Plus, the prices are more affordable than at a mall or department store.
Host a Clothing Swap
If you are a member of a weight loss support group, you may have friends who want to get rid of clothes that no longer fit. A clothing swap is a great way to clean out your closet and find gently used clothing that fits your new body.
Of course, you should set ground rules. Set a time and location for the swap. Ask your fellow members to bring at least one or two items in good condition. You should also keep clothing organized by size and gender to make it easy for people to find what they need.
ProCare Health Can Help You Navigate Your Weight Loss Journey
At ProCare Health, your health is our top priority. We provide you with a variety of products, from a multivitamin specifically designed for bariatric patients to other supplements that you need to stay healthy.
We also have Facebook, Instagram, and Twitter pages, as well as regular emails and articles with wellness tips, recipes, motivation, and more to help you on your journey to a healthier lifestyle.
We strive to provide you with only the best in quality because we know how important it is to your health and well-being. Feel free to contact us with questions or to place an order today!