Life After Surgery
How To Find Support Post-Bariatric Surgery
by Anthony Benjamin on Oct 12, 2022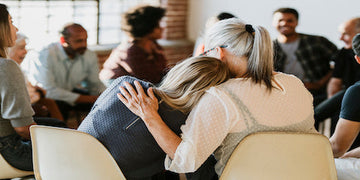 How To Find Support Post-Bariatric Surgery
For many people, bariatric surgery will be one of the hardest things they'll ever do. While it's a significant step towards a long and healthy life, many challenges can arise. These challenges include trouble sticking to a healthy diet, keeping the weight off, seeing yourself in a new body, and maintaining or managing relationships while going through this monumental step in your health journey.
That is why many bariatric patients attend a bariatric support group before and/or after surgery. But how do you find the right support group for you? What types of questions should you ask your surgical team when requesting information on support groups in your area? Keep reading to find out why bariatric support groups are crucial to your success and how you can find one that suits your needs!
Why Are Bariatric Support Groups Important?
There is a general agreement among medical professionals that bariatric support groups are beneficial to long-term outcomes, such as weight loss and emotional well-being. In the United States, medical professionals have deemed them so essential that providing a support group is a requisite for granting the status of a "Bariatric Center of Excellence."
Bariatric support groups help:
Educate
Keep you on track
Make new connections with others going through the same journey
Provide a safety zone for you to express yourself without judgment
Initiate and maintain weight loss
Bariatric support groups are also important because everyone's bodies and minds react differently to surgery. Sometimes, all the support an individual needs is nutritional and exercise advice, while others struggle with maintaining a healthy diet, lifestyle, and self-image even as they lose weight.
What To Look for In a Good Bariatric Support Group
There are several vital factors you must look for in a weight loss surgery support group. When looking for a support group, you should find one that:
Is regularly scheduled
Is moderated by a medical professional
Has active participation that is encouraged for all attendees
Is generally optimistic
While these factors are essential, it's not always easy to find one that matches these requirements and your personal preferences. So how do you find the right support group?
How To Find the Right Bariatric Support Group
The first place to start is to ask your bariatric surgeon. There's a good chance that your surgeon's office:
Coordinates its own group
Works with a local hospital that coordinates group meetings
Can refer you to an unaffiliated weight loss surgery support group
However, when asking your surgeon, it's essential that you ask the right questions, such as:
Q: How many participants are there?
The larger the group, the less time each participant will have to share their issues/accomplishments, and it will be more anonymous. The smaller the group, the more attention and feedback you'll receive.
Q: How specialized is the group?
Some groups have attendees at all stages of the bariatric journey. Some prefer this, while others may like to focus on specific areas like diet and nutrition or specific timeframes, such as 'six months after surgery.' Groups with a broader focus may be helpful from an educational standpoint, but once you learn the basics, you may feel you get more out of a more focused group.
Finally, you must ask yourself one crucial question:
Q: Do I feel welcomed and comfortable?
Suppose you don't feel comfortable within the space. In that case, you're not going to be completely open about your bariatric experiences, which defeats the purpose of joining a support group in the first place.
If you join a group that ticks all the boxes but don't feel comfortable or welcomed, ditch it for a new one. Perhaps, you can even start your own!
How ProCare Health Supports You
While you may want a support group in your area (one you can visit in person), you can also look at ProCare Health as another support system during your weight loss journey.
Each month, we use our Crowdcast channel to put on a live support group hosted by Brenda Hoehn MSN, BSN, RN, CHTP, a member of the ProCare Health team. During each event, Brenda is available to answer questions and give guidance and support to bariatric patients.
About Brenda:
Bariatric nurse since 2012
Bariatric surgery patient since 2013 (sleeve gastrectomy)
Certified life coach and speaker since 2015
Certified Healing Touch practitioner since 2011
A family-focused farm gal who loves to read and garden
You can also view previous events for additional education and guidance.
We know that bariatric surgery means you'll be on a life-long journey towards better health. ProCare Health is here to help you through every step of the way.