Iron Chelate l Veggie Capsule l 45mg l 90 Count
250% Daily Value of Iron
Third-Party Independently Tested for Quality
Three-Month Supply
Sale price
$12.97
Regular price
MSRP
$18.97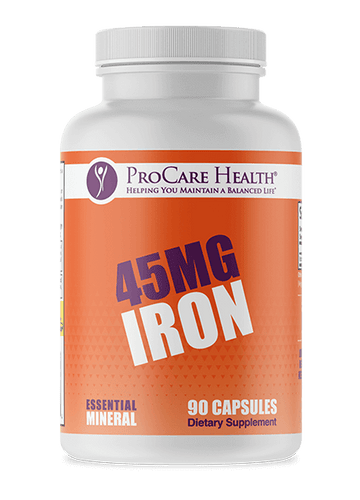 Iron Chelate l Veggie Capsule l 45mg l 90 Count
Sale price
$12.97
Regular price
MSRP
$18.97
Description
Supplemental Facts
Reviews
Iron is essential in the delivery of oxygen throughout the cells of the body. This affects many vital functions including brain, digestive, and immune system performance.
Why is Iron important to Bariatric Patients? Iron deficiency is common with bariatric surgery and can lead to anemia. 
What is the benefit of Chelated Iron? Iron becomes chelated once it has been chemically altered to allow passage through the digestive system without it breaking down. This makes it easier to absorb and more gentle on the stomach.
Benefits of ProCare Health Iron
Medically Backed. Our Iron was formulated using backed scientific and medical research.
Trust and Transparency. All of our vitamins are independently third-party tested to make sure they meet the potency we list on our label. 
Recommended Formula. Made with only premium ingredients and guided by our nutritional experts.
USA. Always manufactured in the USA in a FDA certified facility.