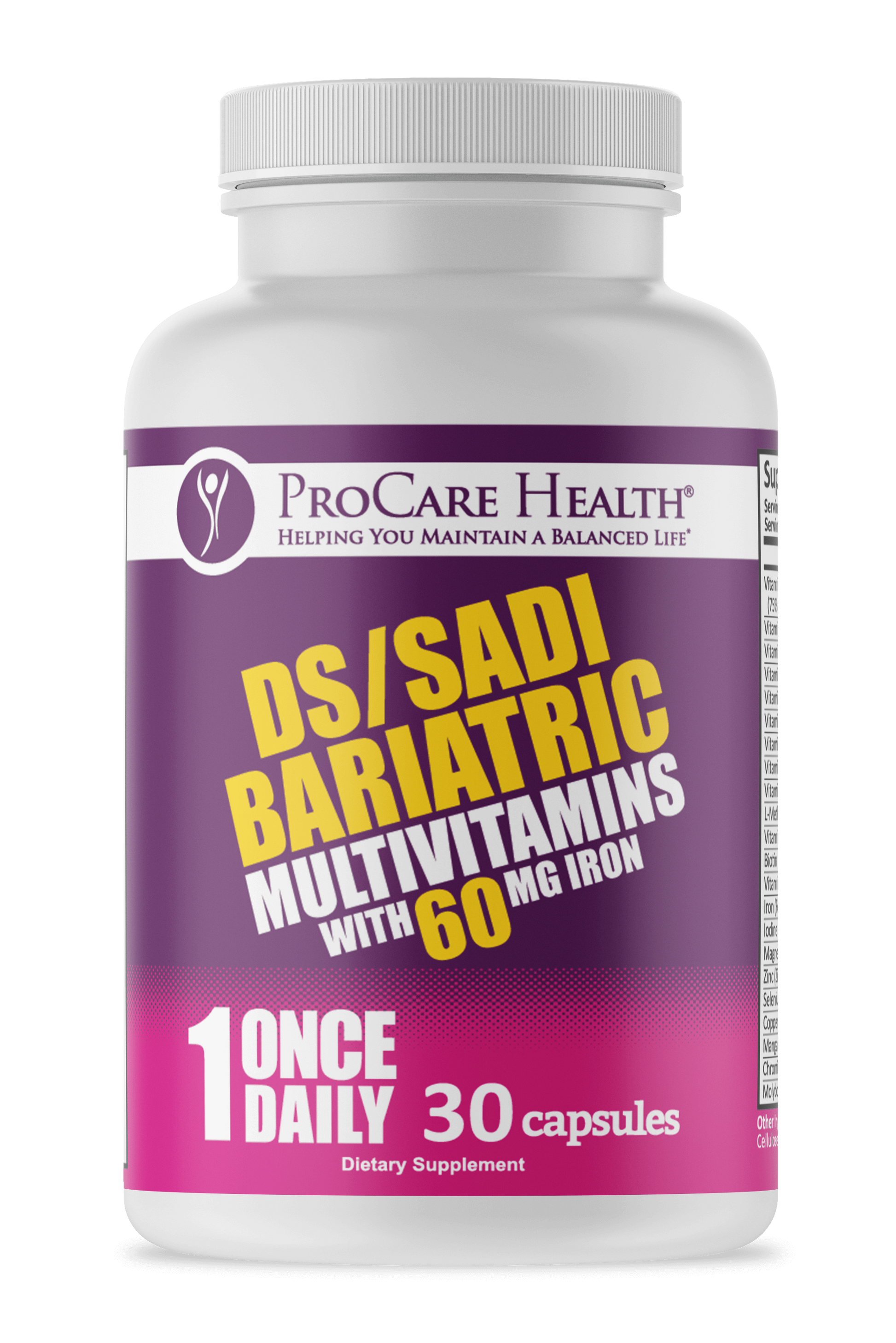 Multivitamin | DS / SADI | Capsule | 30 Count
*Specially formulated for the Duodenal Switch and SADI procedures*
Meets or exceeds current ASMBS guidelines
Gluten-Free | Dairy-Free
Made in the USA
Easy to swallow
Third-party independently tested for quality
Fast-dissolving veggie capsules
Sale price
$14.99
Regular price
MSRP
$17.13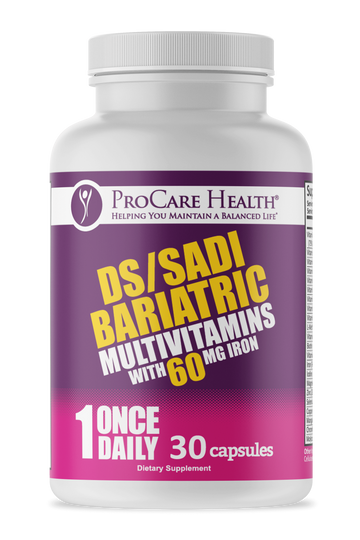 Multivitamin | DS / SADI | Capsule | 30 Count
Sale price
$14.99
Regular price
MSRP
$17.13
Description
Supplemental Facts
Reviews
This ONCE DAILY Bariatric Multivitamin has been designed with the same commitment to quality as our other once-a-day vitamins to meet the health needs of those who have specifically undergone Duodenal Switch (BPD/DS) and SADI procedures; helping you to avoid malnutrition and vitamin deficiency.
Procedure Specific: Both the DS and SADI procedures bypass the areas of small intestine that are utilized in the absorption of several vitamins and minerals. Patients undergoing these procedures are at a higher risk of malabsorption issues such as metabolic disorders, diarrhea, vitamin or mineral deficiencies, and protein deficiency.
ProCare Health has designed this product to meet all of the nutritional needs of the patient and also meets or exceeds the ASMBS micronutrient recommendations.
Iron: A mineral that the body needs for growth and development. Your body uses Iron to make hemoglobin, a protein in red blood cells that carries oxygen from the lungs to all parts of the body, and myoglobin, a protein that provides oxygen to muscles. This vitamin contains 60mg of Iron, along with Vitamin C to enable better absorption.
Thiamine: Helps the body generate energy from nutrients and is necessary for the growth, development, and function of cells. Contains 25mg of Thiamine, which is more than any other competitor! The higher amount is to aid in the prevention of any deficiencies.
Fat-Soluble Vitamins (A, D, E, K): Both of these procedures make it harder for you to digest and absorb fat, including those from necessary vitamins. All the fat-soluble vitamins either meet or exceed the ASMBS recommendations and are in water-miscible form for better absorption.
Vitamin B6: This is an important water-soluble vitamin which functions as co-enzymes in several metabolic pathways. 
Zinc / Copper: Zinc and copper are trace minerals essential for energy production, immune support, and cellular functions. Higher levels of both of these nutrients are included to prevent deficiencies.
Chromium: An essential trace metal that helps control your blood sugar and improves the use of insulin in your body. We have included a slightly higher amount to enhance insulin function and metabolism.
*Patients that have undergone adjustable band and similar surgeries should NOT be taking this vitamin*