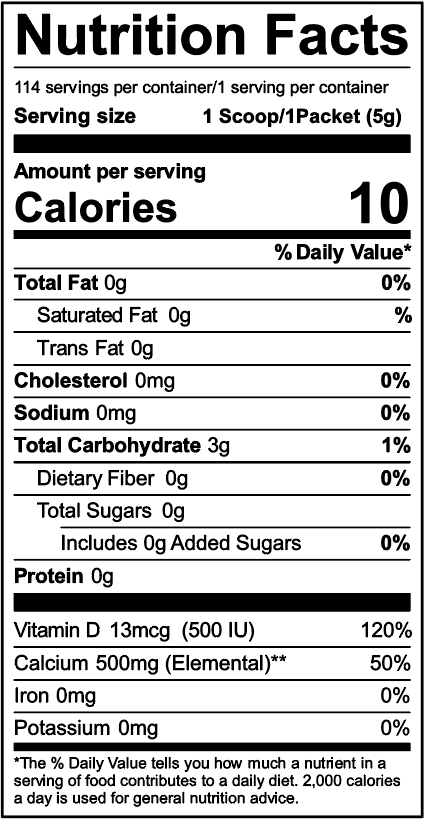 UpCal D | Powdered Calcium Citrate | Single Serving Sticks
500mg Elemental Calcium Citrate
500mg Vitamin D3
Easy-to-mix powder
No large pills to swallow
No taste, just a light sweetness
Sale price
$14.99
Regular price
MSRP
Description
Supplemental Facts
Reviews
Lightly sweet but unflavored powdered Calcium Citrate with added Vitamin D3 to aid in absorption. Each 5g serving contains 500mg of Elemental Calcium plus 500IU of Vitamin D3.
Easy-to-mix powder helps you meet your daily Calcium and Vitamin D3 needs! This powdered supplement eliminates the challenge of swallowing large pills. Bariatric and osteoporosis friendly!
 *Please note: Calcium is a mineral (rock) and will not dissolve. This is a finely ground powder but you will still notice it if not mixed in something with substance.* 
Favorite ways to enjoy: 
Mix in yogurt, pudding, or oatmeal
Mix in a protein shake
Empty powder into mouth and take a drink. (Many people state the powder reminds them of the white candy sticks.) 
Mix with a little bit of water or milk to make a fruit dip or icing drizzle
How many powder packets (servings) should you take? Always follow your doctor/dietitians recommendation. Values below are based on the ASMBS guidelines.  
No weight loss surgery: 2 to 3 daily (based on RDV of 1000-1500mg Calcium depending on age)
Gastric Sleeve surgery: 2 to 3 daily = 1000 to 1500mg Calcium)
Gastric Band surgery: 2 to 3 daily = 1000 to 1500mg Calcium)
Gastric Bypass surgery: 2 to 3 daily = 1000 to 1500mg Calcium)
Biliopancreatic Diversion/Duodenal Switch (BPD/DS) surgery: 3 to 4 servings daily = 1500 to 2000mg Calcium)